Archdiocese donates school supplies to 2,200 children in eight Catholic schools
Wednesday, August 26, 2015
Cristina Cabrera Jarro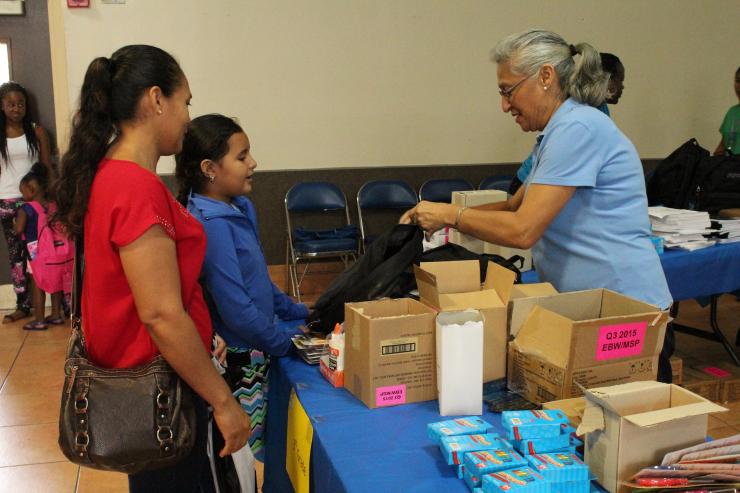 Before receiving their back-to-school supplies, St. Helen School students, their families, faculty and staff gave thanks for the donation provided by the Archdiocese of Miami.
Photography: CRISTINA CABRERA JARRO | FC
MIAMI | For families who struggle financially, miracles can come in a backpack at the beginning of the school year.
This year, the Archdiocese of Miami made miracles happen for nearly 2,200 families by purchasing backpacks and notebooks, pencils and crayons, scissors and glue for students in eight local Catholic schools.
The supplies were bought with money raised at the Gala for the Poor, held to mark the 55th anniversary of the archdiocese in 2013.
The children who received them attend Holy Family and St. James schools in North Miami, St. Lawrence in North Miami Beach, Holy Rosary-St. Richard in Cutler Bay, St. Mary Cathedral in Miami, Our Lady Queen of Martyrs and St. Helen in Fort Lauderdale, and St. Bartholomew in Miramar.
"What distinguishes our drives from others is that they are personalized," said Martha Velasquez, senior director of Stewardship and Special Eventsat the Archdiocese of Miami. "We went to each school and asked each teacher for their rosters. This way, students get exactly what they need."
From Aug. 17-21, students and their families picked up their supplies at their respective schools.
"School's awesome. I wanna go right now," said Gabriel Viloria upon receiving his book bag and marveling at the amount of materials he received.
Gabriel is beginning the third grade at St. Mary Cathedral School — the first time he attends a Catholic school. He put the supplies to immediate use as he pulled out one of the composition notebooks and began to draw.
"It was actually Gabriel that said a year ago that this would be his school," said his mom, Evelyn Viloria, as she watched her son draw a picture of a church. "It was tough, but we kept praying and believing. The help and support we have received has been a testimony of faith. We have made it here."
The St. Mary's distribution, which took place Aug. 21, featured a surprise visitor: Billy the Marlin. The Miami Marlins mascot joined St. Mary's faculty and volunteers in helping prep and distribute the supplies and adjust book bag straps. He also high-fived, hugged and posed for photos with students and their families.
"I used to love writing in composition notebooks," said Alfredo Mesa, vice president and executive director of the Marlins Foundation, as he sorted through the school supplies. "With the Kiwanis, we couldn't miss this."
The Kiwanis of Little Havana, who partner with the Miami Marlins, were instrumental in storing and delivering the supplies donated by the archdiocese, said Velasquez.
The students received enough supplies to last them through the majority of the year. They also received JanSport backpacks because they come with a lifetime warranty. So whether a child received a book bag as a kindergartener or as an eighth grader, the bag could accompany them on the remainder of their educational journey.
"Students are happy that someone thinks about them," said Father Lucien Pierre, administrator of St. Helen Parish.
He led a prayer before the distribution began at the school, and also thanked the Archdiocese of Miami and its donors. "They (the students) will look at their backpacks and say a prayer for having a backpack, and for the donors."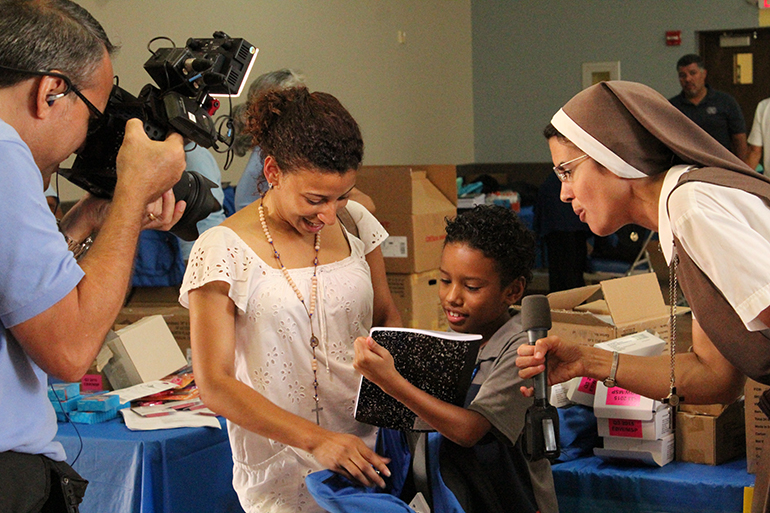 Photographer: CRISTINA CABRERA| FC
Gabriel Viloria shows his mom Evelyn the new composition notebook he received along with other school supplies for his third grade year at St. Mary's Cathedral School. At right is St. Mary School Principal Sister Michelle Fernandez, of the Servants of the Pierced Hearts of Jesus and Mary, taking on the role of reporter as a cameraman captures the moment.